Your Success is Our #1 Goal
We have created systems within our company that ensure customer satisfaction and success, and our experience and expertise is second to none.
Kevin has a great delivery and cadence for an often difficult body of work to deliver. Wonderful explanation and exactly the patience and demeanor to put up with engineers with our kind of questions.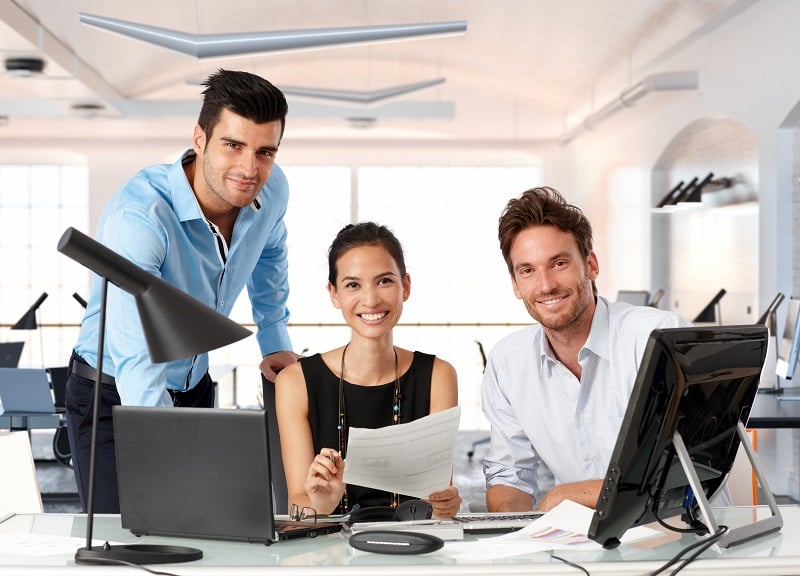 What do our customers say about working with Hagerman?
We take your feedback seriously - our President/CEO personally reads all of our customer surveys!
Subrina was fantastic with following up and making sure we were all set up. Truly a pleasure to work with.
Clayton Pepmiller did an amazing job instructing this class. I learned a lot, and he was very thorough.
William V.
Mechanical Drafter
Greg was very experienced in CAD and didn't assume that everyone was on the same level. He walked through each chapter explaining how and why to use the material being covered. This is my third class through Hagerman, and I'd highly recommend it to anyone looking to learn AutoCAD.
Robert B.
Engineering Maintenance Manager
I really appreciated talking to David. I could have NEVER figured out how to register our new license by myself. (THANKS DAVID!)
I could not have asked for a better experience in order to resolve my issue. Easy to understand, great step-by-step procedure, and very timely.
Greg was a very good instructor. He paced the class very well to help new users of AutoCAD learn the software. I would highly recommend him as an instructor for any future participants.
Collin W.
Controls Engineer
Dan was great as an instructor, allowed us to work along with him in the class and provided meaningful exercises to complete. Dan could answer any and all questions and had a master understanding of the software.
Emile V.
Product Design Engineer
Mark was very quick to reach out and able to troubleshoot through the issues we were having. He was able to pinpoint the problem and help us get past the part of the program that was locked up.
Steven J.
Electrical Designer
Gary was great and very knowledgeable. Appreciate how he tried to cater the class to our company and immediately answer questions as they came up.
Ethan K.
Product Manager/Engineer
Greg is a great instructor. I imagine the virtual environment is tough without face contact, but Greg did a great job at including everyone in the class, making sure all questions were answered, and more. I would rate this class very highly.
Tim J.
Controls Engineering Manager
Daniel was a great instructor and was a pleasure to have teach me things I did not know about Revit in an easy manner. He was easy to communicate with and was very patient in explaining some of the trickier subjects. Overall he is a 10/10 instructor.
Brett was fantastic. When I would ask some more intricate questions, if he did not know the answer, he made sure to find one for me. He would 9/10 answer a question I had for him right before I would have to ask. Hagerman was super easy to work with to get the entire class started. Moving forward, I will only recommend Hagerman to my colleagues.
Appreciate the quick response and the resolution to my request. As a person who also services customer service requests and tickets, I always appreciate it when I get a prompt response from a capable support person who understands my request and knows how to resolve. Additionally, it appeared that I may need additional licensing. Without my asking I was passed along to the appropriate person and was provided contact information to follow-up with. Keep up the great service and support!
Steve R.
Senior Information Technology & Security Manager
Eric and Mark were amazing. It was speedy and effective. Couldn't be happier with your services.
The instructor was very skilled, keeping a steady pace while strongly encouraging people to speak up if they missed something or if a section was going too fast. He was very kind and seemingly passionate, which strengthens the lecture.
You have no idea how much Rick France and Brett Barkman have made my working life better. They are both very good at what they do. Thanks for always being there to help out! Greatly appreciated!
Lori T.
Mechanical Designer
Gary was extremely helpful in explaining Inventor and Vault. He was also great at bridging the gap between my Solidworks and ProEngineer background and Inventor.
Richard J.
Director of Engineering and Product Innovation
I thoroughly enjoyed learning from Kevin Bosch. For an introduction course, he did a fantastic job of getting everyone up to speed and segmenting the chapters. He dissected the material in a very helpful manner in order for us to better comprehend the task and end goal. Kevin was able to answer any question I threw at him, and show me any mistakes I may have made, allowing me to better learn.
Corey H.
Engineering Technician
Most of the questions I would come up with during the class were promptly answered as the instructor went into more detail over what was stated in the Ascent training manual.
Blake I.
Electrical Engineer
Greg did an exceptional job teaching the course! He was knowledgeable and patient when we had questions. I also appreciate the pace of the course - not too fast, not too slow.
Greg was a fantastic instructor that was incredibly helpful and went above and beyond when the book failed to explain things properly.
Sean O.
Electrical Design Engineer
The procedures you have in place are at such a high level, I can't imagine any improvements that could possibly be made. Your support team is truly amazing. I could go on and on but the fact is they're great!
Mark was great, very patient and had the knowledge to resolve the install issue. Terrific team member, a clear asset to the support team. Thanks for the great service!
Gary was a wonderful instructor. He was very clear in his directions and spoke at a great pace to ensure both comprehension and lesson momentum.
Marcus B.
Product Designer
It was a pleasure to work with Hagerman & Company on this Adept upgrade project. This project was drawn out over several months due to our workload but Hagerman never lost track of where we were on the project. A pleasure to work with.
Hagerman & Company was very good at provided updates to an old program we use in AutoCAD. They seem very knowledgeable at programming and met all our requirements.
David M.
Senior Engineer CAD Designer
Kevin did an exceptional job during the install and he answered all my questions. He is excellent with the senior engineer user and someone who is not a daily / constant user of Inventor.
Greg did an outstanding job teaching the class and was extremely knowledgeable.
Alice was an outstanding instructor. Her knowledge of the subject was impressive and she was very patient with the students.
Greg was an awesome instructor. He went out of his way to answer many questions about autocad electrical that didn't necessarily get covered, which was a display of great knowledge of the software.
Mason D.
Electrical Engineer
Dan started off with introductions, to get an idea of who I am and my experience level and that eased us into a comfortable environment. Great speaker made it easy to listen to throughout the day. If I had any questions or needed him to repeat anything he was more than happy to answer.
Gary D.
CAD/Revit Design Specialist
Dan was very helpful during the training. He allowed for plenty of time for me to keep up with the commands within the program that he demonstrated. He showed a lot of useful tips and tricks and provided excellent assistance whenever I got stuck on something.
Matthew S.
Junior Engineer
Fantastic experience. Brett is an expert for sure and was able to get all concepts across with ease. He navigated fairly quickly through pages and menus, likely due to his expert knowledge but did a nice job back-tracking and explaining how he got places. Top notch experience and would like to explore future training led by Brett.
Dave was awesome to work with. He was very professional and extremely knowledgeable. He laid out a clear and concise outline of the steps I needed to take for the resolution of our vault integration project. There were many steps that needed to be taken in a specific order. Seeing the whole playbook ahead of time alleviated any "gray areas" and potential questions along the way. It also gave me a gauge to measure progress. There were a couple of additional issues that I ran into along the way and Dave was quick to respond to them. My experience working with Hagerman was excellent and you should consider Dave a great asset to your company.
Having local support is very helpful vs. using 1-800 numbers that are outsourced. Hagerman uses industry professionals that have experience and can solve problems much faster. Having a local support also increases the speed in which the issues are looked at. Global Tech Support groups do not provide the same speed.
Provided great insight to many of the challenges I have historically face with Civil3D, great instructor that can answer real world problems via Civil3D.
Mark (Adams) was our tech support guru for a 'flex license' issue we had, locking 3 people out of CAD. He responded quickly and assured us we can get this resolved quickly once our IT group was in, which was today. He was VERY patient and kind dealing with our staff, and helped get each person fixed, as well as making sure our IT dept knew how to correct the other 265 users, haha. Great guy, great asset, and a pleasure to deal with….he deserves kudos!!
Brian
Engineering Manager
Even though we adjusted the requirements midway through the project, Forrest and team have done a great job being transparent about the impact of these changes and have given accurate timelines for delivery.
9 times out of 10 the folks there go above and beyond to help us. I've even called and spoken with an engineer on the weekend. Your people are wonderful.
Forrest and Bonn have both done a great job. Easy to work with, great communication, they've clearly understood our requirements and have been patient as we've worked through some technical difficulties both internally and with the other software that we're integrating with.
Clayton did a wonderful job. Explained everything excellently. He was very easy to follow along with, took time for everyone and their questions, and overall did a wonderful job.
Kevin was very helpful, knowledgeable and friendly. I explained my issue with AutoCAD electrical and Kevin was able to explain the solution and then gave me step by step instructions for fixing my problems. Within minutes I was able to fix my problem per Kevin's instructions.
Gary was very patient and super friendly. Extremely helpful with all questions regarding Vault and Inventor! Great Instructor!
William
Research and Development Engineering Lab Technician
We use Vault to maintain all are files. Gary Bergero gave great training for new users and was able to bolster existing users' knowledge of features we weren't aware of. Great trainer.
Michael
Documentation Specialist
Greg is a very knowledgeable instructor with a passion for the software. This was an excellent and informative course!
I worked with Dave Benning, and he was fantastic! He was so quick to respond and unbelievably patient with me! He was so helpful, we were able to figure out my issue via email and Zoom calls.
The Autocad Electrical Course with Gary was amazing. He was very clear and concise with the content. I really enjoyed the constant activities and direct application of tools being presented. I feel very confident in not only my own skills with autocad. I also with the skills that will be needed to create a smooth flowing electrical design team working with the correct standards as well as gaining full utilization of the Autocad Software.
Anthony
Electrical Technician
Dan has been a real expert helping me get back on the AutoCAD train.. Thank you Dan.. Nice work!
Kevin P.
Electrical Engineer
Gary ran an extremely well paced class, at no point did it feel like I was getting too far behind, or like we were waiting a lot on other participants. Thank you Gary!
John
Project Design Engineer
While updating my Inventor 2023 to latest version, I encountered and error message I couldn't resolve. After cancelling the installation, Inventor would not load. I was in a bad place. Contacted Tiffany Castle from Hagerman. She has been my savior in getting support many times before. I was immediately contacted by Mark Adams from tech support. Mark took control of my computer and had me up and running again in no time. Excellent, timely and knowledgeable service provided by all.
Gary is a pleasure to learn from! He is super helpful, clearly explains the topics, and goes out of his way to make sure any questions are fully answered! I really enjoy attending his classes specifically.
William
Engineering Lab Technician
I have no complaints. It's always a pleasure dealing with your staff. That's why we have stayed with Hagerman for so long!!!
We were trying to create an iLogic script that ended up not being possible, but I gained a lot of knowledge about how cool orange would probably be a good idea to solve this and other future automations I want to implement.
Dan was very thoughtful in regards to our class being a small group of two and accommodated the course to fit our questions that best fit what we needed and for our company. He offered other potential ways to make solutions with programs adjacent to Inventor such as Vault. And was very friendly in getting to know everyone.
Brett is an excellent, patient, knowledgeable instructor.
Gary is an amazing instructor! Very Patient and easily answers any and all questions with ease.
William
R&D Engineer Lab Technician
Easy to understand. Well pronounced. Was willing to listen and walk people through difficulties in a kind and courteous manner.
Greg did a great job at not only going through the chapters but also walking us through the exercises. He did a great job and asking if we had any questions and getting us involved. Greg is a nice guy and fun to be around, and he has a good sense of humor! I would love to have him again as an instructor!
Brett did a great job and kept me involved, it is a very fast pace but it was great. I feel I have enough knowledge to get started using Revit with some confidence.
Good info! Instructor was very thorough and explained multiple ways to use AutoCAD
He was great! I have gone on to use the knowledge from this class in my everyday life!
Support was great. Scott was very knowledgeable and helpful. He discovered and resolved a few other issues in my set-up.
Alice is a wonderful and very patient teacher. She is very knowledgeable in Revit and worked diligently to address all questions we asked her about Revit.
Mary K.
Civil Engineer Tech.
Mark was great, he reached out to me upon seeing the help ticket. Worked on the phone for 2.5hours with myself and a tech from Synergy until the problem was solved.
Hagerman customer service has always been outstanding. This latest case is another example of fine support. The customer service team researched the problem and identified a solution - then worked on-line with me to be sure the solution worked.
I was in a time crunch and the Hagerman Team bent over backwards to help me and our company.
James H.
Drafting and Design
Good training for people with limited exposure to Inventor and who want to gain additional abilities without the long learning curve associated with youtube tutorials and online tricks and tips.
Brett is a beast. Always so calm and collective even when the slow students kept asking for help over his very well explained instructions. Would recommend to others and hope I have him again for my next class!!!
Brett did a very good job. with so much material to cover he really excelled in his explanations and knowledge of the software.
Bradley C.
Design Engineer
Great instructor, very knowledgeable and eager to answer any question.
Dan was an amazing instructor. Everything was very well explained and he was always very patient with our questions.
Very straightforward, patient and knowledgeable. Dan was efficient and takes the time to help where needed.
Christopher
Glazing Technician
Great. He was knowledgeable, patient and took the time to individually answer our questions and adapted to the faster pace of the class.
Daniel was very thorough in his training material and was happy to help/walk thru any questions we had. He also gave us plenty of practice time to go thru key process items.
Scott did a great job, I enjoyed working with him on the issue. It was resolved in a reasonable timeframe and the communication was outstanding.
Dan was very kind and always willing to help out when anyone had questions regarding any of the training.
The instructor spoke clearly, and explained the content well. I like doing the exercises, as opposed to just being taught verbally. I learn better that way. The test questions were good also. I also really liked that it was a remote class.
Fantastic support. Dave is quick, efficient, and my issue was resolved in minutes... Thank you.
Hagerman has been my go to resource for technical questions on Autodesk products since 2001. The service/support staff has frequently gone above and beyond my expectations to resolve my problems. This has been an excellent long term relationship. Thanks
Brett Barkman was an outstanding instructor. He explained all concepts in the curriculum in precise detail and was completely adequate to address all questions and issues.
Taylor P.
Healthcare Engineer
Amazing and explained everything in a clear and effiecient way. Even going through things multiple times in order too make sure everyone was caught up.
Olivia R.
Associate Structural Engineer
Gary Bergero gave a very detailed and effective course on the file structure of Inventor 2022. His class preparation and topics were spot on to my needs and skill level. His presentation style is very flexible, friendly and engaging. An excellent course. Thank you very much!
I had zero previous Inventor experience and Clayton did a great job of helping me understand all topics.
Class was great. Dan encouraged an open discussion format which was really helpful. Dan shared helpful tips and trick to speed up work flow and that were applicable to real world situations. Highly recommended.
Scott has been such a great instructor. He is patient and always willing to wait or answer questions. He teaches the information thoroughly and in a way that is easy to grasp. I can't say enough good things.
Excellent instructor, very clear communication and knowledgeable when posed with a variety of questions.
Jacob D.
Mechanical Engineer
Best instructor, hands down. This guy is obviously well-experienced in teaching. He talks clearly, and instantly understands where people are coming from when they ask questions, and encourages questions and whatnot. Everything was perfectly thought-out. New concepts were reinforced with examples. Best instructor ever.
Taylor N.
Sr. Mechanical Engineer
Made the material very easy to digest. Also tailored the course to the classes skill level so we were able to cover a few advanced topics.
The instructor did a great job explaining complicated functions of the software.
Thomas L.
Design Engineer
Dan was very helpful and went above and beyond to make sure that my technical issue was addressed professionally and promptly. He escalated an issue to Autodesk and then fought to make sure that they investigated things on their end as well.
The support I received was exceptional. There were challenges with MS updates after creating a new deployment and the representative did not hesitate to address these installation issues, working directly with Autodesk for a resolution.
Greg was great. Was able to break it down to the fundementals very well. Honestly made me feel like I have been over thinking/over complicating things.
Reid F.
Controls Designer
Gary has been a great instructor! Would love to get him again in the future if there is another training opportunity in inventor. Really spent the time making sure we understood each topic and addressed any concerns along the way.
Great class, Brett was able to field all questions or he would get back to us the next day. Wouldn't hesitate to take another course by Brett.
Greg was absolutely flawless. He makes sure you understand, he is very patient and fluent with his teaching. very nice style, very well put together A+.
Clayton was very impressive during our class. Extremely knowledgeable and did a great job explaining everything. I've been apart of some training courses that you could tell the instructor did not have an expert level understanding of what they were presenting, this was definitely not the case for Clayton. I would definitely say he has an expert knowledge of this software and made the class fun.
Kevin has a great delivery and cadence for an often difficult body of work to deliver. Wonderful explanation and exactly the patience and demeanor to put up with engineers with our kind of questions.
Brett was VERY knowledgeable and patient. He even took the time to help us through ongoing issues we had been having so that we could effectively follow along and learn how best to use the program. He catered the subject matter to our needs and allowed us to guide the topics to be most efficient for our work. Overall, really he was exceptionally professional and gracious. Would highly recommend him and this class to others.
Clayton was welcoming and knowledgeable about the course. With a smaller group he was able to fit the pace of the class to our skill level. He was able to minimize distractions and keep us moving through the course throughout the day.
Hagerman support has been fantastic. The Hagerman representative for our coolOrange software is able to work computer programming magic behind the scenes and even create plug-ins for the Vault to trigger PDF generation without a state change.
Keith is very Knowledgeable and quickly helped us work out the solutions to our questions. He paced the class very well and made it so much easier to absorb the Information.
coolOrange is a great software add-on to the Vault and helps us modify the PDFs that are generated in a variety of ways beyond what the out-of-the-box software could.
Our Hagerman rep is extremely knowledgeable in the programming language that the cool orange software and Vault use to interface. Every time we come up with a new idea, he is able to incorporate it seamlessly.
This is my third course with Gary, he is an excellent instructor and makes sure every student understands the content. He goes above and beyond to make sure his students are satisfied with the course.
Subrina was very professional, technical and responsive. She personally kept me in the loop with the Autodesk troubleshoot progress which was unexpected and is rarely done these days. Thanks Subrina!!
Kevin Bosch was amazing to work with to resolve an issue with our backup scripts.
I enjoyed that Gary chose to combine book exercises with exercises where we built files from scratch. It greatly helped with understanding.
[Kendred] took time out of his breaks to expand on questions we had about uses of the program or applications.
Dan Rosenberg is a very knowledgeable person with lots of input on different ways to approach users working the software.
Brett was great at explaining the material and answering questions and helping us to figure out where we made mistakes when something didn't work right.
First time dealing with Hagerman, and I can't remember a time I've had a technical issue resolved so promptly and courteously. Great staff with excellent technical expertise and customer service.
Gary really does a great job, this is my second course with him and he does a very thorough job and ensures that the training is tailored to the students' specific needs
Brett was exceptional in his knowledge and management of the class. It was extremely well organized and communicated.
Outstanding technical support; Kevin Bosch was courteous, professional and knew what he was doing. i wish all tech support was this good!
[Clayton] never skipped any steps. Explained each click which helped me participate on my second monitor without keeping my eyes glued on the presentation.
Gary was thorough and willing to be flexible with course materials beyond the scope of the book. He also checked in with everyone throughout the class to ensure we were all on the same page and not having issues.
Incredibly knowledgable and approachable on all subjects covered within the course as well as adjacent topics in other Autodesk applications. Mr. Rosenberg was extremely helpful and went out of their way to make sure everyone in the course was proficient and comfortable with the software during every check-in after each lesson.
I have had so many classes over the years it's hard to recall all of them. Gary is unbelievably talented at speaking and ensuring all of us clearly understood and could replicate what was being taught. I'm sure you understand what an amazing employee you have on your hands. Thank you so much for this great training.
Alice was very thorough, courteous, and diligent in finding a solution for my issue. Kept me informed and was certainly the best detective for the case! Pleas pass along my praise to Alice and her supervisors as I believe it's good for people to know when they've done an exceptional job.
This was by far one of the best training I have ever taken. Gary clearly has his students success in mind and wants them to walk away with usable tools. I am grateful. Can't imagine taking an on line class like this without him.
Eve
Safety and Health Department
Brett is one of the best if not the best instructor I have had. I have done Civil 3D for 22 years. His training has given me confidence to jump into Revit and start using.
[Brett] did a great job and really understood the program. Was great with questions and understood what I was trying to do.
You're on my short list for consistently excellent tech support. I have no suggestions!
Dan did a great job at breaking down the content and explaining it in an easily-understandable way. He frequently asked if anyone had questions over the content and gave a little extra time if any of the students needed it. Dan was very professional and knowledgeable during his instruction of this class.
This call might have been the best customer service experience I have ever had.
Great job. Very patient and understanding of a new user no matter if they had CAD background or not.
Stacy C.
Electrical Engineer
Dan was awesome he taught everything in an easy to understand manner and listened to any and all questions and answered them thoroughly. If I ever do training again, I hope I get Dan.
I have been associated with Hagerman for many years and they continue to meet / exceed all my needs and especially explaining everything in great detail.
Sorry!
No items currently match your filtering criteria.